There are a number of hair color brands available in the market, then what is so special about Belini?
Belini presents ammonia free permanent hair color, perfectly packed into a sachet for giving you a unique, confident look. But guess what? Belini begs to differ. Belini comes with multiple consumer friendly qualities that you might not see anywhere else.
Hair color that is friend of your hair
Haven't you all often heard that dying hair can destroy hair? Sure it does, when it only focuses on depositing hair color. Maintaining your hair health is the main aim of Belini. It is formulated specifically for thin hair types. Usually, people with thin hair don't even dare think about dying hair as their hair is already sensitive. Belini makes sure that people with thin hair can also dream of coloring their hair.
The formulation of Belini hair color is quite gentle. It is made ammonia free that protects the hair from damage. It involves conditioning agents like Argan oil and Aloe Vera that protects and nourishes hair health. There's no chance of hairs getting frizzy or dry because Aloe Vera and Argan oil give enough moisture and stability to the hair.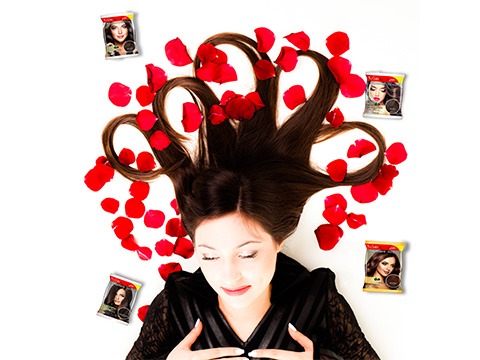 Hair color safe for hair health
Mostly, permanent hair colors use ammonia to make color deposition possible. But do you have any idea how damaging that can be? Ammonia is a strong gas that opens the cuticles of hairs to deposit color. The process of opening the cuticle and interacting with natural color pigment is quite damaging. It can destroy your hair health. Belini sachet doesn't use ammonia to dye hairs. Rather it uses color pigments and 60% of natural oils to make your dream come true. This is especially great for touching up grey hair as the frequent use of Belini's hair color won't harm your pretty hair.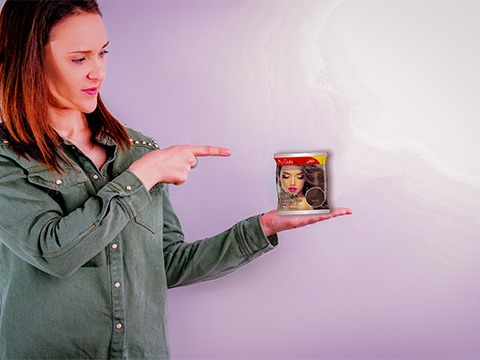 Hair color ideal for thin hair
Thin hairs are very delicate. One bad decision can turn your dream of beautiful hair into a nightmare. Belini has specifically taken thin hair under consideration while formulating the color sachet. People with thin hair should avoid colors that have ammonia in them since it can initiate hair fall and dryness. That's why Belini's ammonia free sachet is a safe option for people with thin hair. Also, argan oil and aloe vera will help to create the illusion of fuller, thicker hair, making it ideal for your thin hair texture.
Hair dye that doesn't increase grey hair ratio
Coloring hair with metallic dyes has significantly increased grey hair ratio in people. Coloring hair frequently with metallic hair dyes has shown results that are pretty disappointing. Thinking how they cause greying of hair? Here's a little chemistry for you. The salts extracted from metal oxidizes. This oxidation happens continuously which disturbs the production of melanin in our hair, promoting the ratio of grey hairs. Belini is a synthetic hair color that deposits color onto the hair shaft. It doesn't interact with the natural hair pigment. So, it does not make hair go grey.
Hair dye safe for sensitive skin
Since it has gentle ingredients, it has less risk of causing allergic reactions. This makes it a safe choice for people with sensitive health conditions.
Hair dye free from strong odor
The strong, pungent odor that many permanent hair colors have is because of ammonia. Belini hair sachet doesn't have a strong odor because it is ammonia free. That is why Belini gives a pleasant experience while coloring hair and is great for those allergic to strong odors.
Hair dye that is easy to use
Not everyone has time to go to a salon for covering their greys or changing the whole look of their hair. Belini is home friendly. It comes with the perfect amount of hair color that you can use to cover your greys or change the hair look altogether. It has a creamy developer for soft emulsion. The creamy texture blends so smoothly, which makes your experience of dying hair at home worth it.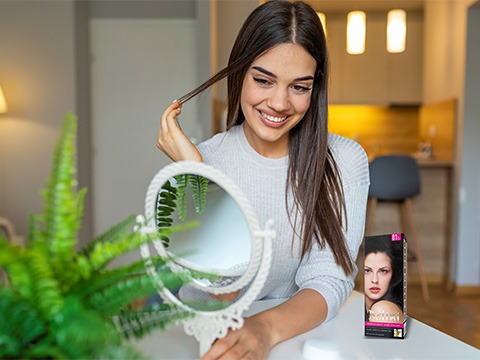 Ideal hair color for one time use
What will you do with a full box of dye when you just want to use it a little, maybe just to cover some grey strands? Belini's color sachet is a good option if you like to switch up your hair color frequently or if you need frequent touch ups for your grey strands. Sachets of hair dye are pre measured and contain just the right amount of product for your one time use. You don't have to worry about the unused product going to waste.
Budget friendly hair color
Belini's hair color sachet is quite cost friendly. If you want to buy a hair color only for root touch ups, Belini sachet is a smart option. What will you benefit from investing in a full box of dye that may go to waste when you can purchase a sachet of your desired shade?
Hair color with the most natural shades
The best part of Belini is that it offers you the natural most shades. If you crave a different, gorgeous yet natural looking vibe, Belini is ideal for you. Belini comes in a number of natural shades that tends to be more subtle and soft. It offers a lovely series of brown hues which will make your hair look sun kissed in the pretty sunshine. Also, natural shades act as the best cover ups for grey hair strands.
International standard quality hair dye
Belini is not just budget friendly but it also promises an international standard quality. It is made with care, precision, and quality ingredients that will make your experience safe and beautiful. We don't want you to compromise on your dreams. That's why we are here to help you with international standard quality work.