Belini Hair Color Shade Card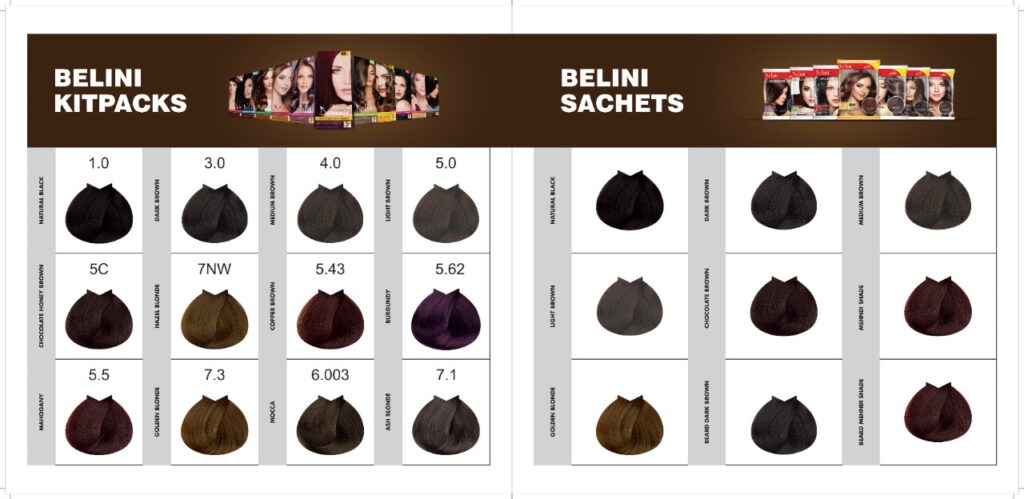 Hair color has always been a way to express our individuality and personal elegance. It says a lot about your personality. Choosing the right hair color can be challenging. And we all know that choosing the right hair color can make a big difference and compel you to feel more confident and beautiful. However, with so many hair color options available, it can be overwhelming to choose the right one. That's why the Belini shade card comes up with a guide that will be helpful in deciding which color to choose that can best complement your skin tone.
Belini shade card comes with 15 natural hair colors, ranging from natural black to hazel blonde. Some are permanent hair colors in kit packs and the others are ammonia free which comes in handy sachets, all in hues that best complement Asian skin tones. They all are ideal for 100% resistant grey hair coverage and are very easy to maintain since it does not require any bleaching or high lifting effect.
Now let's track down to all the natural shades in the Belini shade card.
1.
Black:
The very first hue in the Belini shade card is the classic and elegant black which is the most common color in Asian hair. It is that one color that makes your hair appear fuller and lustrous more than any other color. Black has the strongest pigment and it is best for concealing grey hair.
Shades in Kit pack:
Shades in Sachet:
2.
Brown series:
The series of brown in Belini shade card is designed to enhance the natural warmth in hair. Brown shades complement Asian skin tones very well and give a soft, flattering look. All the shades of brown ranging from dark brown to chocolate honey brown provide a rich and sophisticated twist to your hair. If you dye your hair with darker hues of brown, you'll experience a more luminous and dramatic frame for your face. Darker hues of brown also make your eyes pop. If you prefer to go for lighter shades of brown, be ready to experience the aesthetic sun-kissed effect. Light brown shades are perfect for warm, golden skin tones and those who are looking for a low-key yet refreshing change.
Shades in Kit pack:
| | |
| --- | --- |
| Dark Brown 3.0 | Copper Brown 5.43 |
| Medium Brown 4.0 | Chocolate Honey Brown 5C |
| Light Brown 5.0 | Mocha 6.003 |
Shades in Sachet:
| | |
| --- | --- |
| Chocolate Brown | Beard Dark Brown |
3.
Natural Blonde Series:
Belini shade card comes with a natural blonde series which is a popular choice among people today. The shades of blonde in the Belini shade card provide the perfect sunny, warm, natural looking blonde look for your hair. This series is greatly suitable for people with yellow, peach, or golden undertones. To get a bright and subtle look Belini provides you with hues of hazel and gold in blonde and to get a muted, sophisticated vibe, Belini brings you an ash touch in blonde. The pick depends on your personal preference though. Also, if you're someone with grey hair, don't worry, we have you covered beautifully. This blonde series serves as a blessing as it will give you the most natural highlights when you dye them on your grey strands without any use of bleach. It will perfectly blend with your natural hair.
Shades in Kit pack:
| | | |
| --- | --- | --- |
| Golden Blonde 7.3 | Hazel Blonde 7NW | Ash Blonde 7.1 |
Shades in Sachet:
4.
Mehndi Series:
Mehndi, also known as henna, is Belini's sachet series with two respective shades. It is the kind of color that is derived from the leaves of the henna plant. The Mehndi shade is a deep, rich shade of reddish-brown that provides a beautiful and natural-looking color to the hair. It is a popular hair color in Asia and is often used for special occasions like wedding functions. The Mehndi series in Belini shade card is perfect for warm or golden skin tones and is great to color men's beards. Also, Mehndi shades are known for their conditioning properties that leave hair soft and shiny. Fashion following health.
Shades in Sachet:
| | |
| --- | --- |
| Mehndi Shade | Beard Mehndi Shade |
5.
Mahogany:
Belini shade card possess a rich, reddish-brown hue that will give your hair the desired depth and dimension. This color in Belini shade card is ideal for golden and warm skin tones. It is a great way to cover grey hair and is perfect for adding warmth and freshness to the hair without actually going red. It will rather give a fresh reflection of red tones.
Shades in Kit Pack:
6.
Burgundy:
Belini creates a burgundy shade with violet reflections. It's a rich and unique shade. It is actually a shade of red that is deeper and darker than a traditional red shade and the violet reflection adds a multidimensional, cool tone to the shade. This premium shade complements people with cool skin tones. It specifically makes blue and green eyes pop.
Shades in Kit Pack:
With the Belini shade card guide, you can pick the best hue for yourself without worrying about the damage a hair color might do to your hair. Why? Because Belini provides all natural, healthy shades of hair dyes that don't need any high lifting or bleaching procedure. You even have the facility to pick from either a kit pack or a sachet, whatever suits your situation with Belini hair colors.